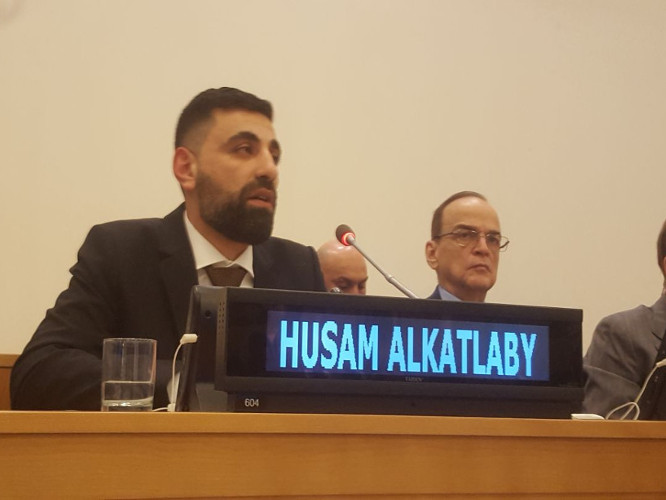 Press Release
Speech by the Violations Documentation Center Executive Director at the UN Security Council Meeting
UN Security Council Meeting
Speech by the Violations Documentation Center Executive Director
Ladies and Gentlemen,
I would like to thank the sponsors of today's meeting. I am here today on behalf of my colleagues in the Violations Documentation Center, who are working tirelessly to document human rights abuses by all sides of this brutal conflict. The VDC has Human Rights documenters in all provinces and most cities in Syria – including government-held areas and non-government held areas, as well as besieged Eastern Ghouta.
Our staff is comprised of a team of speciliasts in human rights monitoring and data documentation in accordance with International Humanitarian Law. We compile our data on the basis of a multi-stage process, including data collection from field hospitals, cemeteries, and families of casualties. Data is further verified through photographic and video documentation to ensure accuracy. Our database of human rights violations is updated on a daily basis to ensure there are no errors or inconsistencies.
A little over two weeks ago, members of this Council unanimously adopted resolution 2401 stipulating an immediate nationwide cessation of hostilities, safe and unimpeded humanitarian aid access to all areas in need, and safe and unconditional medical evacuations for those in need of urgent care.
In the first 14 days since resolution 2401 was adopted, this resolution – your resolution – has been systematically violated.
The VDC has documented a total of 601 violations of the UN resolution throughout Syria. 747 people were killed in Eastern Ghouta alone as a result of the 347 registered violations in the area; 688 were civilians, including 111 children and 94 women. 98% of these violations were committed by the Syrian government and Russian forces. There are 10 violations registered that were committed by the armed opposition. 99% of the death toll was a result of attacks by the Syrian government and Russian forces.
Among the violations we have documented, are:
Attacks on medical facilities. On 25 February, an attack by the Syrian Air Force on Zahraa maternity hospital in the town of Saqba rendered the hospital inoperable. Since Resolution 2401 was adopted 20 medical facilities have been targeted across Syria.
Chlorine gas attacks. Since 2401 was adopted 3 chlorine gas attacks were documented. The VDC has documented the killing 3 children by chlorine gas in a special report called A Child Killed Twice.
Incendiary weapons attacks. We have recorded 59 reports of napalm attacks by the Syrian government and Russian forces, resulting in 6 fatalities.
Indiscriminate barrel bomb attacks. Since resolution 2401 was adopted, our offices have recorded a total number of 181 barrel bombs deployed across opposition-held areas including in Eastern Ghouta.
Siege warfare. Those civilians in Eastern Ghouta who want to leave, have not been permitted to leave via routes of their choice. Routes that allow access to the opposition held areas in Daraa and Idlib remain closed to civilians, who fear that a route to Damascus is a death sentence. 
The Syrian government continues to impede the medical evacuation of civilians in need of urgent medical care. 1034 patients are in urgent need of evacuation. 27 have died waiting in vain to be evacuated.
And aid convoys continue to be targeted by parties to the conflict. Personnel on the aid convoy sent to Eastern Ghouta on March 5th reported bombing at approximately 5:30 PM local time, and artillery fire targeting the convoy in the center of Douma. At 7:40 PM, the convoy team was instructed by the Russian army to leave immediately, even though 9 of the 46 trucks in the convoy had not been unloaded.
 Personnel on the convoy that entered on March 9th reported to the VDC that bombing took place precisely as the convoy arrived, forcing UN personnel and implementing partners to seek shelter in basements and appeal to the Syrian and Russian governments to allow them to continue their mission.
In the name of principled Syrian legal and relief organizations that seek to provide protection and assistance to those who do not participate in the conflict – for civilians – I appeal to members of this Council, to intervene effectively and to intervene quickly–not only for the hundreds of thousands of innocent lives lost since this conflict started and not only for the civilians who were killed in Eastern Ghouta in flagrant violation of your own resolution, but first and foremost for the millions of lives that your actions could save.
Eastern Ghouta is the final test for whether your nations can – and will — work to uphold international humanitarian law, and for all our collective claims to humanity.
I came here today hoping to appeal to your nations to end this senseless war. I came here today hoping to demand justice and accountability. But instead I am merely asking you to uphold the resolution you yourselves adopted less than three weeks ago. I – like so many Syrians – am calling on you to do what it takes to implement this ceasefire, which all members of this council have pledged to respect.
Thank you for your time and consideration.