Born in 1978, detained in Latakia Military police, the branch 248 of the Military police in Damascus, and Sednaya Military prison.
Testimony to The Violations Documentation Center in Syria, February 2017.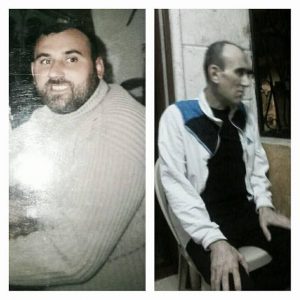 Introduction:
Through publishing this and other testimonies from previous detainees in different Police Military prisons (Branch 248 of the military police in Damascus, the military police branch in Latakia, and Sednaya military prison), VDC is trying to collect as much evidence as possible on the catastrophic and inhuman conditions these detainees had to go through. In addition, it tries to shed light on the brutal methods of systematic torture that is followed by the Syrian government intelligence and security agencies to force the prisoners to make confessions under duress.
Ahmad's testimony is divided into two parts, the first includes what he had to go through in Branch 248 of the military police in Damascus, Military police branch in Latakia, and a detachment of military police in Damascus. The second section focuses on his time at the notorious Sednaya military prison.
Ahmad Walid Fatto, was born in Marj Khouha village, Al-Haffa city, Lattakia. He is now 39 years old, married and has three children. Used to work as bees farmer until he was arrested on 08/March/2012 and released on 13/06/2014
"This testimony is going to be published in two parts, this first part presents the stages of arrest, the interrogation, and the court. While the second part focuses on Sednaya prison up until the date of release."
The testimony (Arrest, Interrogation, and court):
At about six o'clock in the morning of Thursday, March 8 / March 2012, my home raided by the security forces, as part of an arrest campaign in the village because of the high frequency of peaceful protests in it. They arrested dozens, I remember from them: Mazen S. M., Mohammad R. S., Arkan A., and Essam A.
The arrests were random and without specific lists of names and for me personally I did not have any political, civil, or humanitarian activities. Neither engaged in any actions or protests, except the one time, when I went to a peaceful demonstration.
After collecting a large number of detainees from the village, we were transferred by buses to a detachment of military security in a Salma area of ​​the governorate of Latakia. Once we arrived there, we found large numbers of other detainees who were brought from nearby villages and towns, everyone was blindfolded and laid on the ground. I could not identify any of them.
We waited for the bus for about an hour handcuffed, I also remember that they kept cursing and beatings us with thick sticks, they carried. The biggest bulk of the beatings and torture barred by a young man called Mazen A., which later died under torture later in Sednaya military prison. They laid him on bus floor and kicked him all over his body until nearing died.
We were transferred again by buses, we didn't know where with time I managed to peak from one of the windows to see "Haroun roundabout" in the city of Latakia. Usually, the distance between Selma and Latakia is 45 km. Along the road between Selma City and the city of Latakia, we had to repeat many slogans such as "with blood we will redeem and defend you Bashar", etc., not to mention the insults and constant beatings with sticks and feet, knowing that we were handcuffed behind our backs.
After some time, we arrived at an unknown place, but I was certain we are still within the city of Latakia. Later I recall that it was brought down through 20 steps star to a basement. Later we knew we were inside the military security branch in the city of Latakia. We were forced to queue, while blindfolded and handcuffed, and one by one entered into an office to register our names. Then brought us back into the same queue.
I remember at the time that the blind on my eyes was little higher and unstable. This enabled me to peak slightly downwards only. I saw the feet of a former detainee. His feet were swollen and puffy eerily and their color was blue and bleeding dark red blood. I was terrified but I kept reassuring myself constantly that I have not committed any crime nor participated in anything to deserve similar harsh punishment.
After more time, they led us one by one to a special investigation room. But, before we enter the interrogation room, they tightened our handcuffs, I felt my hands will be separated from the rest of my body, and then laid us on the ground, face down.
One detective came out, and asked, who will confess first? I answered immediately, I will.
He took me into the interrogation room, and asked: what will you confess?
I answered I didn't do anything to confess.
My answer sparked an outrage of anger, he started kicking and beating me for about an hour, until my eyes swelled dramatically and lost the ability to see well. They dragged me out and kept me on the previous situation again.
Torture sessions continued with the rest of the detainees and varied in intensity from person to person, some people lost consciousness as a result of severe torture, I could hear the investigator orders to bring cold water to wake them up. While some other detainees screamed strongly and strangely without hearing hitting voices.
Afterward, the detective came out again and asked the soldiers to transfer me to the confined cell and said to them, "take good care of him, do not let him sit, sleep, no food for 24 hours, and no toilet."
After around 24 hours I was taken back to the interrogation room and was forced to the same position from before, handcuffed behind the back, laid on the ground, face down. In this queue, I met several people I was surprised by their presence and remember from them, "Dr. Mahmoud S., Dr. Ammar D., Mazen A., Yousef A., Yasser T." who had been arrested three days before us, and torture signs were very apparent on them. Yasser T. suffered meat erosion around his wrists.
They put me back in the interrogation room and asked me again to confess. I told him I do not have any information. So, he asked the soldiers again to "Take good care [Means to torture him more]" me. They used to hit us with very thick cables, too heavy and sounds horrible on the body, This torture session lasted about two hours. Then they tried to fit me in a wheel (Another infamous torture method, widely used in Syrian prisons), but they couldn't because of my size at the time. So, he ordered the soldiers, specifically a person named Abu Ali, to apply 'Alshabah' (Another method, where the person is hanged in the air by the hands or the feet).
In the next day, they took me to a room and tied my hands in front of my body, then to a metal chain tight to a ring in the ceiling of the room. Then they pulled it and pulled my body up by my hands. This is Al-Shabah. They put a chair under my feet, and the detective asked me again: Are you going to confess. I answered that I have no information. So he pulled the chair and I became hung by my hands in the air.
I remember looking up, towards my hands, and hearing the flesh being removed around my wrists from the handcuffs. I stayed like this for four minutes then I thought to myself, I will confess to whatever he want. Just to survive this. So I said I have very important information to confess.
After some time in the prison, I met other guys who have been arrested in the past, most of which were arbitrary arrested. Mazen A. was one of them, they brought him to the general office, and told him either to confess or they will bring his wife and rape her in front of him. He confessed immediately to things he never did. He wasn't the only one, they did the same with Yaser T.
Derar A., another guy I met. Joined only one peaceful demonstration. They pulled his finger and toe nails, then throw boiled water on his back, the flesh was removed and with the lack of any medical attention. He had a severe complication and died later in Sednaya military prison.
In the Branch 248 and head of military police in Damascus:
Same techniques were used on the way Salma area to Latakia city were used from Latakia to Damascus, but the journey took 4 hours instead.
After we arrived at the unknown place at the time, we used stars to go down 30 steps stair. We were 8; Dr. Mahmoud S., Dr. Ammar D., Mazen M., Yasser T., Derar A., Amar A., Mohammad S., and myself.
We stayed in a room for around two hours, then into another with an area of 12 square meters, that had already 38 detainees. We started talking to previous detainees after some time, and that's how we knew that we are in the branch 248. We left that room every 15 days and only to shave. One time, they took pictures of us and gave us numbers. We stayed for 55 days, then moved again on May 18th, 2013.
Once we approached our unknown new place, I glanced and was able to see few guards, wearing belts and red head covers, they are military police. The closer we got the more I was sure that we are arriving at the head of the military police in Al-Qaboon are in Damascus city. This scared me a lot, military police is a place where the martial courts take place and we are after all civilians. Once we arrived, they gathered us in a big uncovered area, where we stayed under the sun from 9 am until noon. Then the courts started. Individually entering the courtyard, there was sitting three judges, two in civilian clothes and one in a military and one documenting.
Second part, which will be published soon, presents Ahmad's experiences in Sednaya prison, the torture and his release.