Since mid-March 2011 up until February 2017, VDC documented 174,184 battle-related deaths.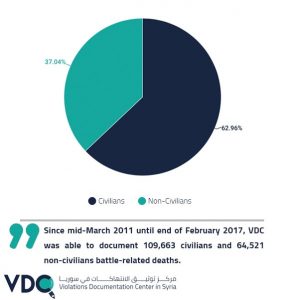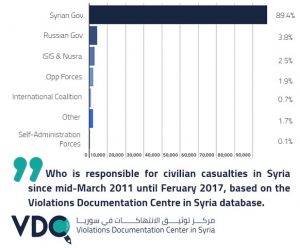 First, February Battle-Related Deaths:
During this month VDC documented a total of 1298 deaths across different Syrian governorates, among them, 1235 were documented by full name and 63 are still registered as unknown.
Second: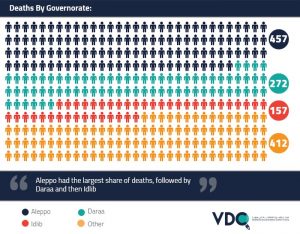 Third: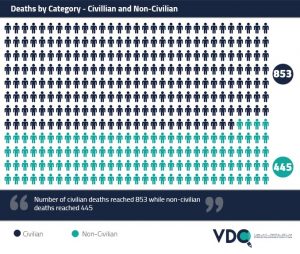 Fourth, Death by Type of Weapon:
419 of the total 1298 of the battle-related death occurred by firearms and snipers, 400 by aerial attacks and barrel bombs, while tanks, cannons and mortars accounted for 203 battle-related deaths. Additionally, the VDC documented the deaths of 276 under other reasons; sixty-two deaths under torture in the Syrian government detention centers, 5 due to the lack of medical and food resources in besieged areas and 170 by land mines and car explosives, 16 kidnaped by unknown, and one by Sarin gas. While for the rest 22 the cause or the executioner was not undoubtedly identified.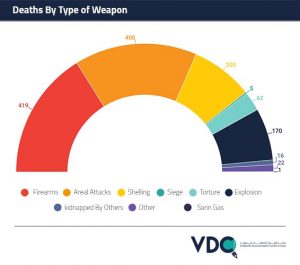 Fifth: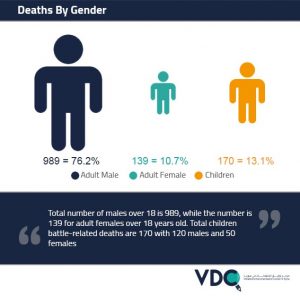 Sixth, Deaths by ISIS:
During this month, VDC documented the death of 293 people, 152 are civilians, and 141 from different armed groups.
Seventh,
VDC did a voice interview with a former detainee Ahmad Walid Fatto on 02/15/2017, who had been arrested by the military intelligence agency in the city of Latakia and detained from 08/03/2012 until 13/06/2014.
Ahmad narrates the forms of torture and inhumane treatment inside Syrian security vaults in Latakia and the capital Damascus. The report also presents the detailed testimony of what happened to him in the detention centers. The first part of the testimony covers the period of detention within the military police branch in Latakia province and the branch 248 of the military police in Damascus. While the second part is devoted to the period he spent in in Sednaya military prison.
Notes:
These figures are not final in any way, and they are subject to continuous and periodic scrutiny by center's activists, the database administrators, and the field documentation team. Figures may differ between reports, and the most recent report is always considered to be the more accurate.
VDC team pays tribute to all the collaborative activists who extended a helping hand to our center as well as to the families of the victims. We also thank the Field Observation Team whose members face daily dangers executing their duties in Syria in order to document the human rights violations committed there, complete the data, and claim the rights of the distressed families from the concerned bodies and organizations.